This is my foot. And David's chihuahua, Rosko. He's a nice chihuahua and he likes everybody, but he LOVES my husband. This is his coy pose.
My foot is tired of looking like this. I suppose I shouldn't complain. I'm fairly mobile considering I had surgery on Thursday morning and it's Sunday afternoon. Pretty much done with the pain pills, which were not fun. I have to creep along whenever I get up for fear of bumping it - also not fun. I see the doctor on Tuesday. Hopefully I can lose some of the bandaging, which is tight and itchy.
Here is my faithful companion, Murnie:
She's a snuggle-bug and has much taken up residence on the couch with me. We receive occasional visits from the cats, when they're not at Secret Cat Club meetings or napping or getting into things that I don't know about because I am stuck on the couch...
Here is a weird snowflake thingy I made from some of the cards we got this year:
Yep. That's what I did for two days while lying on the couch, high on percocets watching Desperate Housewives on Netflix. (Thank goodness Downton Abbey starts back up tonight.) I've also got pieces cut out to make little baskets from the cards that were too small for the snowflake thingy. Pictures to follow once I get going on it.
While haunting the internet I discovered this: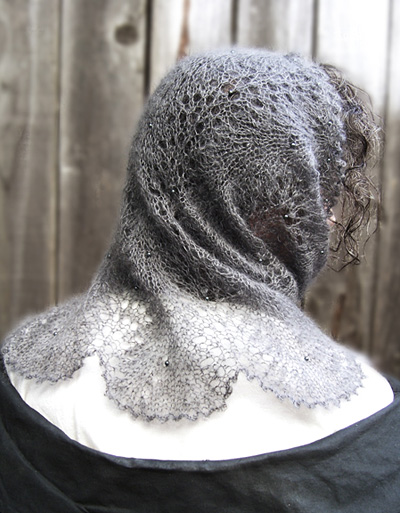 which I love SO much and want to make. It will have to wait for a few more days because I have to be able to get up and root around in my stufio for the yarn, needles and beads. Isn't it gorgeous??? For those of you who knit, you can find the pattern
here
.(Even if you don't knit you can find it there, but you probably aren't interested.)
I'm finishing up a wimple knit from a deep green Shetland wool. It's not delicate like this one, but it is WARM. And I like the color - a foresty kind of green.
I also have some pillowcases that I'm going to embroider (white on white). I planned to have a bunch of fussy little stuff to work on because the coffee table won't hold big projects and I have to be able to work on things while lying down. I'm not sure why the pillowcases. I just woke up one morning last week and wanted to have elegant embroidered pillowcases. Perhaps it's the Downton Abbey vibe, not sure...
Enough nattering for now. More on the next episode of "View from the Couch..."